Posts for tag: dental implant
By Anniston Dental Group
August 29, 2020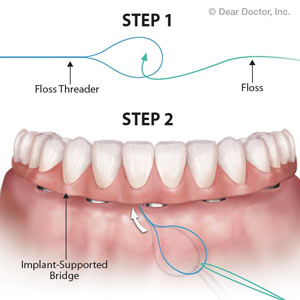 Losing your teeth can be a traumatic experience with serious consequences for your overall health. Fortunately, you have great options for replacing lost teeth that can restore both appearance and dental function.
One such option is a fixed bridge supported by dental implants. While implants are best known for single tooth replacement, they can also be used with other restorations like bridges. In this case, the bridge is screwed into a few well-placed implants to support it.
Implants can provide bridges with more security and support, and without the need to alter adjacent teeth that are commonly used for traditional tooth replacement. They may also slow or stop bone loss because the titanium in implants naturally attracts bone cells that grow and adhere to its surface and provide stimulation to the bone cells during function.
Because of these benefits an implant-supported bridge could be a life-changer that provides years of satisfaction. But we can't simply "set them and forget them": They require dedicated oral hygiene just like natural teeth.
While the bridge materials and implants themselves are in no danger from disease, the same can't be said for the implant's supporting gums and bone. Dental plaque, the main driver in gum disease, can place these tissues at risk for infection that could eventually lead to implant failure.
It's important, then, for you to floss around your new implants to remove any plaque. This differs from regular flossing in which you work the thread between teeth. Instead, you'll have to maneuver the floss between the bridge and gums with the help of a floss threader, a small slender tool with a loop at one end and a stiffer plastic edge at the other (similar to a sewing needle).
To use it, first run 18" of floss through the loop until you get equal lengths and then work the tail of the floss threader between the bridge and gums while holding one end of the floss. Once through, you pull the floss threader through so that the floss is on either side of the bridge. Then grab each end of the floss and pull it snug to floss up and down one side of the implant. Go to the next side and repeat this procedure for all the implants.
As an alternative, you could use an oral irrigator, which emits a pulsating spray of water to loosen and wash away plaque. Either way, though, it's important to floss around implants to get the most life out of your bridge.
If you would like more information on proper care for implant-supported restorations, please contact us or schedule an appointment for a consultation. You can also learn more about this topic by reading the Dear Doctor magazine article "Oral Hygiene for Fixed Bridgework."
By Anniston Dental Group
April 01, 2020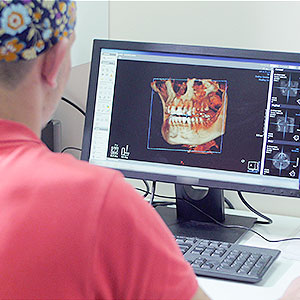 Compared to other dental restorations—a few of which have been around for over a century—implants are a relatively recent development. But even though it's just now entering its fourth decade, recent advances have catapulted implant therapy well beyond where it began.
That's due mainly to digital technology. Two examples of this, computed tomography (CT) and 3-D printing, are increasing the accuracy and efficiency of implant placement.
Properly placing an implant is one of the most important elements in achieving a natural and attractive result. But finding the best location is often difficult due to a lack of suitable bone volume, the patient's bite or the proximity of anatomical structures like nerves and blood vessels. CT imaging, especially Cone Beam CT scanners (CBCT), is helping to make implant placement planning easier.
Unlike the static, two-dimensional views of standard x-rays, CBCT takes hundreds of images and digitally blends them together to create a virtual 3-D model of the patient's jaw and face. Dentists can view this highly detailed model on a computer monitor from various vantage points and better identify possible obstructions. With better information about what "lies beneath," they can more accurately pinpoint the best implant site.
Creating the ideal plan is one thing—successfully implementing it is another. Dentists often create a surgical guide that helps them drill in precisely the right positions during surgery. The guide, which resembles a mouthguard, fits over the gums and contains marker locations for drilling.
Many dentists are now using 3-D printing to create these surgical guides. A 3-D printer turns a digital model of the guide based on measurements of the patient's mouth and proposed implant locations into an actual physical object "printed out" layer by layer of special polymer material. The end product can be more precise than guides created by other means.
These and other technological developments are helping implant therapy rise to a new level of success. With the resulting increase in accuracy, efficiency and less treatment time, tomorrow's implant patients will be the ultimate beneficiaries.
If you would like more information on restoring missing teeth with dental implants, please contact us or schedule an appointment for a consultation. You can also learn more about this topic by reading the Dear Doctor magazine article "How Technology Aids Dental Implant Therapy."
By Anniston Dental Group
December 03, 2019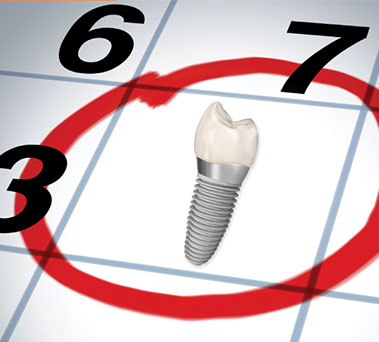 If you've thought the ads for a "new tooth in one day" seemed too good to be true, we have…sort of good news. You can get a new "tooth" in one visit, but only if your dental situation allows it.
The restoration in question is a dental implant, a metal post (usually titanium) surgically imbedded into the jawbone. They're especially durable because bone cells naturally grow and adhere to an implant's titanium surface, a process called osseointegration. Over time this process creates a strong bond between implant and bone.
Usually, we allow a few weeks for the implant to fully integrate with the bone before attaching the visible crown. With "tooth in one day," though, we attach a crown at the same time as we install the implant, albeit a temporary crown. It's more aesthetic than functional, designed to avoid biting forces that could damage the implant while it integrates with the bone. When that process finishes, we'll install a permanent porcelain crown.
The health of your supporting bone and other structures will largely determine whether or not you're a candidate for this "tooth in one day" procedure. Your bone must be sufficiently healthy, as well as the gums surrounding the implant and the tooth's bony socket.
If, on the other hand, you have significant bone loss, gum recession or socket damage, we may first need to deal with these, usually by grafting tissue to the affected areas to stimulate new growth. Your implant, much less a temporary crown, will likely have to wait until the affected tissues have healed.
The bone can also be healthy enough for implant placement, but might still need time to integrate with the implant before attaching any crown. Instead, we would suture the gums over the implant to protect it, then expose and attach a permanent crown to the implant a few weeks later.
Obtaining even a temporary crown the same day as your implant can do wonders for your appearance. A more important goal, though, is a new tooth that you can enjoy for many, many years. To achieve that may mean waiting a little longer for your new beautiful smile.
If you would like more information on restoring missing teeth with dental implants, please contact us or schedule an appointment for a consultation. You can also learn more about this topic by reading the Dear Doctor magazine article "Implant Timelines for Replacing Missing Teeth."