Posts for tag: cosmetic dentistry
By Anniston Dental Group
April 08, 2021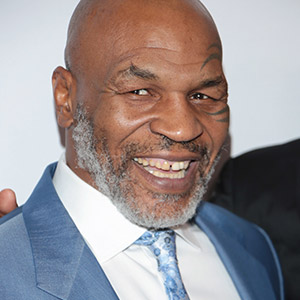 Mike Tyson made a splash when he faced off against sharks during the Discovery Channel's Shark Week 2020. But there's bigger news for fans of the former undisputed world heavyweight champion: After a 15-year absence, he will enter the ring again for two exhibition matches in the Fall. However, it's not just Tyson's boxing action that made news during his 20-year career. His teeth have also gotten their fair share of press.
Tyson used to be known for two distinctive gold-capped teeth in the front left side of his mouth. He made headlines when he lost one of the shiny caps—not from a blow by a fellow pugilist but from being headbutted by his pet tiger as Tyson leaned in for a kiss. Tyson's teeth again garnered attention when he had his recognizable gold caps replaced with tooth-colored restorations. But the world champion may be best known, dentally at least, for his trademark tooth gap, or "diastema" in dentist-speak. Several years ago, he had the gap closed in a dental makeover, but he soon regretted the move. After all, the gap was a signature look for him, so he had it put back in.
That's one thing about cosmetic dentistry: With today's advanced technology and techniques, you can choose a dental makeover to suit your individual taste and personality.
An obvious example is teeth whitening. This common cosmetic treatment is not a one-size-fits-all option. You can choose whether you want eye-catching Hollywood white or a more natural shade.
If your teeth have chips or other small imperfections, bonding may be the solution for you. In dental bonding, tooth-colored material is placed on your tooth in layers and then hardened with a special light. The material is matched to your other teeth so the repaired tooth fits right in. This procedure can usually be done in just one office visit.
For moderate flaws or severe discoloration, porcelain veneers can dramatically improve your appearance. These thin, tooth-colored shells cover the front surface of the tooth—the side that shows when you smile. Veneers are custom-crafted for the ideal individualized look.
Dental crowns can restore single teeth or replace missing teeth as part of a dental bridge. Again, they are manufactured to your specifications. With restorations like crowns and veneers, the smallest detail can be replicated to fit in with your natural teeth—even down to the ridges on the tooth's surface.
And if, like Mike Tyson, you have a gap between your teeth that makes your smile unique, there's no reason to give that up if you opt for a smile makeover. Whether you would like a small cosmetic enhancement or are looking for a more dramatic transformation, we can work with you to devise a treatment plan that is right for you.
If you would like more information about smile-enhancing dental treatments, please contact us or schedule a consultation. You can learn more in the Dear Doctor magazine article "Cosmetic Dentistry: A Time for Change."
By Anniston Dental Group
January 18, 2021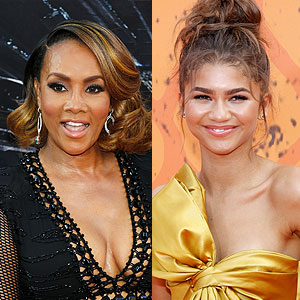 Kill Bill fans have been pressing for a third installment of the stylized revenge tale since Kill Bill, Volume 2 hit the theaters in 2004. Finally, filmmaker Quentin Tarantino is talking about the long-awaited Volume 3 as if it might soon become a reality. The third movie in the franchise would most likely focus on the now-grown daughter of the character played by Vivica A. Fox in the first two. Vivica recently made known that should Kill Bill, Volume 3 go into production, she thinks 24-year-old actress and singer Zendaya would be perfect for the role.
Although Zendaya is a few inches taller than Vivica, the two women have a few things in common. Besides being talented movie and television actresses who have won awards for their roles, they both have camera-ready smiles. And both Vivica and Zendaya can thank their dentists for helping their smiles be their best.
In 2016, Vivica told Dear Doctor magazine that her smile needed a boost, so she opted for dental veneers to correct gaps between her teeth—and she's very happy with them. "I love my veneers!" she exclaimed. Zendaya also had help in achieving her Hollywood-perfect smile. In 2011, early in her career on the Disney channel, she wore clear orthodontic aligners to straighten her teeth. To further perfect her smile, she visited her dentist for professional teeth whitening in 2016, inviting a film crew along to show how easy and effective in-office tooth whitening is.
But you don't have to be a celebrity to enjoy smile-enhancing dental treatments. They are great options for anyone who wants to improve the look of their smile.
Teeth whitening. If your teeth are looking yellowed, in-office whitening can make them up to 10 shades brighter in one visit! Some people prefer professional at-home whitening kits, which produce great results more gradually.
Bonding or veneers. For small chips and cracks, cosmetic bonding can cover flaws by adding layers of a tooth-colored material over the tooth. For bigger flaws, heavy discoloration or gaps between teeth as Vivica had, dental veneers may be the answer. These custom-made thin porcelain shells cover the front-facing surface of the tooth, hiding imperfections to give anyone a Hollywood smile.
Orthodontics. Crooked teeth can detract from the look of a smile. While traditional braces are an option, many people with mild to moderate alignment issues find removable clear aligners the perfect way to get the smile they desire with minimal impact on their daily activities. Clear aligners are very subtle and can be removed for eating and cleaning as well as for special occasions—or for filming scenes, as Zendaya knows.
Contact us or schedule an appointment for a consultation to see if professional teeth whitening, cosmetic bonding or veneers, orthodontics, or another dental treatment could enhance your smile. You can also learn more by reading the Dear Doctor magazine articles "Important Teeth Whitening Questions Answered" and "How Your Dentist Can Help You Look Younger."
By Anniston Dental Group
September 19, 2017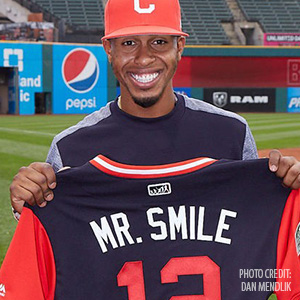 At the first-ever Players Weekend in August 2017, Major League Baseball players wore jerseys with their nicknames on the back. One player — Cleveland Indians shortstop, Francisco Lindor — picked the perfect moniker to express his cheerful, fun-loving nature: "Mr. Smile." And Lindor gave fans plenty to smile about when he belted a 2-run homer into the stands while wearing his new jersey!
Lindor has explained that he believes smiling is an important part of connecting with fans and teammates alike: "I've never been a fan of the guy that makes a great play and then acts like he's done it 10,000 times — smile, man! We've got to enjoy the game."
We think Lindor is right: Smiling is a great way to generate good will. And it feels great too… as long as you have a smile that's healthy, and that looks as good as you want it to. But what if you don't? Here are some things we can do at the dental office to help you enjoy smiling again:
Routine Professional Cleanings & Exams. This is a great place to start on the road toward a healthy, beautiful smile. Even if you are conscientious about brushing and flossing at home, you won't be able to remove all of the disease-causing dental plaque that can hide beneath the gum line, especially if it has hardened into tartar, but we can do it easily in the office. Then, after a thorough dental exam, we can identify any problems that may be affecting your ability to smile freely, such as tooth decay, gum disease, or cosmetic dental issues.
Cosmetic Dental Treatments. If your oral health is good but your smile is not as bright as you'd like it to be, we can discuss a number of cosmetic dental treatments that can help. These range from conservative procedures such as professional teeth whitening and bonding to more dramatic procedures like porcelain veneers or crowns.
Tooth Replacement. Many people hide their smiles because they are embarrassed by a gap from a missing tooth. That's a shame, because there are several excellent tooth-replacement options in a variety of price ranges. These include partial and full dentures, bridgework, and dental implants. So don't let a missing tooth stop you from being Mr. (or Ms.) Smile!
If you'd like more information about oral health or cosmetic dentistry, please contact us or schedule an appointment for a consultation. You can also learn more by reading the Dear Doctor magazine articles "Beautiful Smiles by Design" and "The Impact of a Smile Makeover."