Posts for: June, 2018
By Anniston Dental Group
June 20, 2018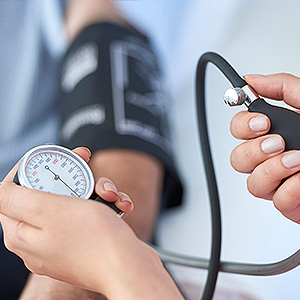 You may have been surprised by a new addition to your regular dental appointment routine—we took your blood pressure at the start. While you might expect this at a medical clinic, it seems unusual at the dentist's office.
But not anymore: blood pressure checks at dental offices are quickly becoming routine, including during regular cleanings and checkups. Here are 3 reasons why checking your blood pressure is now part of your dental visit experience.
Your blood pressure could be an issue during dental work. While we do everything possible to make you comfortable, undergoing dental work can create stressful feelings. Blood pressure normally increases when stress occurs, including before dental procedures. If you already have issues with hypertension (high blood pressure), any circumstance that might increase it could lead to health problems or even an emergency like a stroke. If your blood pressure is high, we may forgo any planned procedures and refer you to a physician for further examination.
Local anesthesia can affect blood pressure. Local anesthesia is an important part of dental work—without it we couldn't provide maximum comfort during procedures. But many anesthetics include epinephrine, which helps prolong the numbing effect. Epinephrine also constricts blood vessels, which in turn can elevate blood pressure. We may need to adjust the anesthesia drugs and dosages we use in your case if you have high blood pressure.
It could save your health—and your life. The symptoms for hypertension can be subtle and often go unnoticed. A blood pressure screening check is often the first indication of a problem. That's why blood pressure screenings in a variety of healthcare settings are so important. A routine blood pressure check at your dentist (who hopefully sees you at least every six months) is one more opportunity to find out. Discovering you may have high blood pressure is the first step to controlling it and hopefully avoiding more serious conditions like diabetes or cardiovascular disease.
If you would like more information on monitoring vital signs during dental visits, please contact us or schedule an appointment for a consultation. You can also learn more about this topic by reading the Dear Doctor magazine article "Monitoring Blood Pressure."
By Anniston Dental Group
June 10, 2018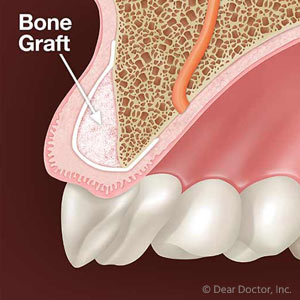 Every year dentists place over 5 million dental implants for lost teeth, often removing the problem tooth and installing the implant at the same time. But getting a "tooth in a day" depends on a number of health factors, especially whether or not there's adequate bone available for the implant. Otherwise, the implant's placement accuracy and success could be compromised.
Bone loss can be a similar problem when a tooth has been missing for a long period of time. If this describes your situation, you may have already lost substantial bone in your jaw. To understand why, we need to know a little about bone's growth cycle.
When bone cells reach the end of their useful life, they're absorbed into the body by a process called resorption.  New cells then form to take the older cells' place in a continuous cycle that keeps the bone healthy and strong. Forces generated when we chew travel through the teeth to the bone and help stimulate this growth. But when a tooth is missing, the bone doesn't receive this stimulus. As a result, the bone may not replace itself at a healthy rate and diminish over time.
In extreme cases, we may need to consider some other dental restoration other than an implant. But if the bone loss isn't too severe, we may be able to help increase it through bone grafting. We insert safe bone grafting material prepared in a lab directly into the jaw through a minor surgical procedure. The graft then acts like a scaffold for bone cells to form and grow upon. In a few months enough new bone may have formed to support an implant.
Bone grafting can also be used if you're having a tooth removed to preserve the bone even if you're not yet ready to obtain an implant. By placing a bone graft immediately after extraction, it's possible to retain the bone for up to ten years—enough time to decide on your options for permanent restoration.
Whatever your situation, it's important that you visit us as soon as possible for a complete examination. Afterward we can assess your options and hopefully come up with a treatment strategy that will eventually include smile-transforming dental implants.
If you would like more information on obtaining dental implants, please contact us or schedule an appointment for a consultation.